The 2015 mid-term meeting of the second sales department was successfully held
The mid-term meeting of the Second Sales Department was held in Jinggangshan, Jiangxi Province on July 10 and 11, 2015. The sales staff of the Second Department and colleagues from the Marketing Department, Customer Service Department, Tendering Department and Human Resources Department attended the meeting.
At the meeting, the sales managers made a comprehensive summary of the work in the first half of the year, and expounded the marketing plans and measures for the second half of the year. During the meeting, the "Xinnaoxin and Yinpu Sales Competition" was held. The contestants launched a unique PK competition with their marketing plans and challenge tasks for their participating products. Lu Wulin masters competed for five champions, namely:
Yang Yanyan (Participating product: Yinpu)
Zhang Hongbo (Participating product: Xinnaoxin)
Tang Sheng (Entry product: Dorsey)
Liu Pei (Participating product: Sanqi)
Qin Junwang (Participating product: Bairui)
During the competition, the contestants signed the military order for the challenge mission in the second half of the year.
During the meeting, the sales staff of the second department held product forums and exchange of experience for Yinpu, Xinnaoxin, Sanqi, etc., and conducted in-depth discussions on product marketing strategy, product positioning, competitive product analysis, market development and other issues, and accepted The training of the sales department, marketing department, bidding department, and customer service department has been carried out. The training content covers a wide range of product knowledge, sales skills, low-cost drug bidding, freight forwarding, full payment operation, assistance in the completion of confirmation letters, emergency handling, etc. .
In the current harsh medical environment, through field study and feeling the Jinggangshan spirit of the Red Army of workers and peasants that "a single spark can start a prairie fire", the sales managers of the second and front-line sales managers have strengthened their confidence in winning. The meeting ended successfully. With the harvest after learning, come back with a fruitful!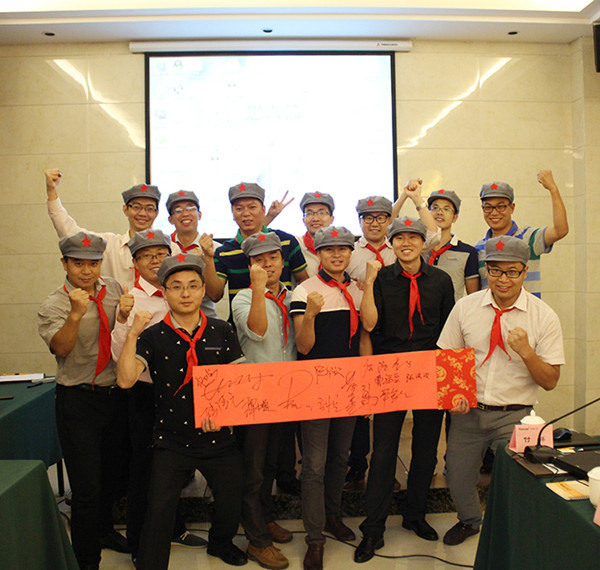 Group photo of all contestants
After fierce competition, the champion of sales competition was born
The contestants appeared with the military orders for the second half of the challenge mission signed on the spot
Product Forum and Training
All participants learn the Jinggangshan spirit on the spot